+91 94141 15732

We Empower your
Business Growth

Quality
Policy
We are committed to supply the quality approved by the customer. Improvement of quality management system is integral feature of our organization. We shall review our quality objectives in line with challenging business environment.
Hari Minerals (ISO 9001-2008 Certified co.) laboratory is well equipped with the most advanced quality control instruments to produce minerals of highest standard of quality and consistency. The technique used for measurement of various important properties involves a series of procedures.The system are divided into main areas-daily production dispatch sample analysis, inspection of stock and data monitoring. Shree Ram Minerals (ISO 9001-2008 Certified co.) and Quality control Laboratory have some of the most well trained and experienced Chemists, Geologists and Engineers to study the needs of customers, undertake continuous product up gradation and improvement and maintain consistency in quality.
Quality Objectives:
Manual Sorting to recover maximum white ore.
Analysis of Chemical Properties – before dispatch to work.
Particular Size Analysis.
Test for physical properties like Bulk Density, Oil Absorption, Brightness etc.
Testing of Hydrophobic, Oil Absorption and Uniformity of Coating.
Each supply carries a Quality Test Certificate certifying values within specifications.
XRD & Electron Microscope-Analysis.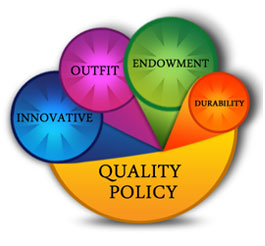 Quality Principles:
These four common quality principles apply in Hari Minerals.
These principles are incorporated in the quality systems and business processes of FLSmidth enabling us to achieve our quality objectives and targets.
Promote continual improvement of business processes.
Involve engaged employees and symbiotic supplier relationships to fulfill customer expectations
Provide resources and tools needed to drive quality improvements
Measure and Improve customer satisfaction and business performance